Job growth continued at a solid pace last month, and the unemployment rate is still low: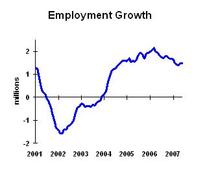 The recent pace of job growth is 1.5 percent over the last 12 months. The population is growing not quite so fast, so unemployment has dropped: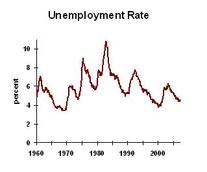 Note that this chart goes back to 1960, and shows pretty well that it's fairly unusual to have unemployment as low as 4.5 percent. If you're a worker, enjoy it. If you're an employer, you've got problems. (Imagine the AOL voice speaking up when you open your employment processing software, saying, "You've got problems.")
My economic forecast is for the pace of job growth to slow gradually, and for unemployment to gently increase to about five percent over the next 12 months. But business leaders should still be thinking (in this order) of employee retention and hiring.