New home sales declined just a little, previous months were revised downward, and it looks like the greatest drops are behind us: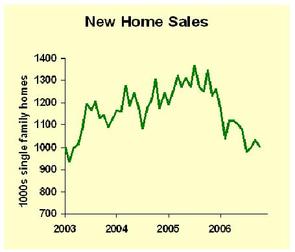 I say that the worst is behind us think of those big drops; some further small declines are possible. Most of the action in the market going forward will be on the price side. Median price over the last 12 months is up just under two percent. On the positive, the unsold inventory of new homes appears to be leveling off: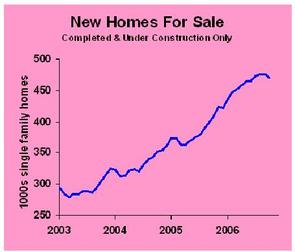 But let's add one more chart for perspective: the inventory of unsold new homes since 1965: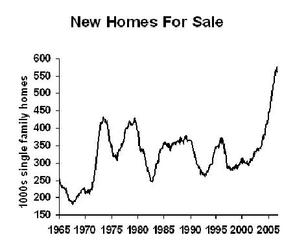 Business Strategy Implications: It will take a long time for this huge inventory to be worked off. However, housing is local, so your market may vary. Generally, homebuilders should use their profits for a vacation–a very long vacation.
Other Blogs Posting on This Topic: Calculated Risk follows the housing market carefully; Paper Money finds the news about housing to reinforce his real estate worldview; Interest Rate Roundup finds good, bad and ugly in the report; and the Calgarian Contrarian observes that with high home prices, we won't continue to add first-time home buyers to the demand pool.