Falling gasoline and diesel fuel costs have brought down inflation and retail sales not adjusted for inflation. The producer price index numbers show the inflation story:



The chart shows 12-month percent changes. If we look at just the most recent months, the drop is even more dramatic. Particularly encouraging is the decline in the PPI excluding food and energy, the "core rate."
Retail sales declined the last two months counting all spending, but if we exclude gasoline, spending has increased by a modest amount over inflation.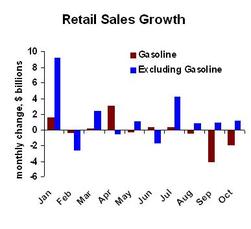 Business Strategy Implications: It will be harder to push up prices in the coming months. Costs are coming down with gasoline and diesel prices, so your competitors will be tempted to pick off your customers.