The prices at which new homes sold last month was down sharply, the second greatest one-month drop on record. (Records begin in 1963; the worst month was September 1981, in the depths of the recession.) The 12-month decline is the worst since 1970.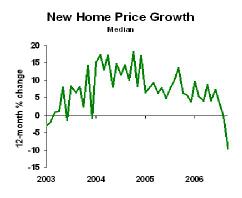 Note that this does not necessarily mean that the price of any home has fallen. It could reflect greater sales of the cheaper homes, with the expensive homes not moving. Nonetheless, it's a clear sign of weakness.
Home sales rebounded a bit last month, but not enough to turn the trend around.



Taken together, the two items suggest that homebuilders are cutting prices to get rid of inventory. We are not yet seeing that with respect to existing homes, where sellers are declining to sell if they cannot get close to their asking price. But homebuilders are not getting any value from unsold inventory (whereas homeowners can continue to live in and enjoy the homes they have listed for sale).
Business Strategy Implications: Residential construction industry continues to weaken; be wary if you are in that sector, either directly or indirectly. The rest of the economy is not infected by this weakness, and may well escape the effects of the housing downturn. But keep working on the contingency plans.