I've got my opinions, but it makes sense to see what the market thinks. By manipulating data on options on Fed Funds futures, you can estimate the market's expectations in terms of the probability of different Fed actions. Okay, that's a mouth full. Just look at the charts, courtesy of the Cleveland Fed.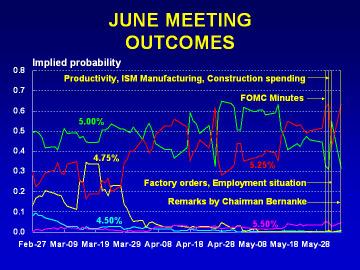 You'll probably want to click on the image to see the chart. What's most interesting is the red line, which is the probability of a quarter point increase next meeting. The red line took a dip when the weak employment data came out, then took a jump back to its previous level when Fed chair Ben Bernanke's speech was reported.
Business Strategy Implications: What business leaders need to know is the trend of Fed movements. Clearly the Fed has been pushing rates up, which means the pace of economic growth will slow. Expect not quite so much growth in the coming 12 months as in the past 12, but don't agonize over a single Fed decision. The impact comes from the culmination of many small decisions.