By either of the two main gauges, consumer attitudes declined in May.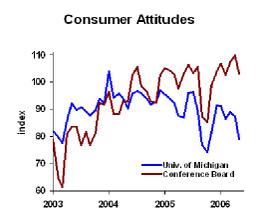 The difference in the two surveys is that the University of Michigan is showing a downward trend over the last year and a half. I think the Michigan survey is slightly more reliable.
However, consumer behavior is mostly dictated by fundamentals of jobs and inflation. If you know these, then you usually can figure out what consumer attitudes are. The recent peak in the surveys was higher than the fundamentals indicated, and the surveys have declined so that they are now about in line with the fundamentals. Look for the fundamentals to weaken a touch, though, with slightly rising inflation and no acceleration of employment growth.
Business strategy implications: plan on a continuation of recent consumer spending patterns.