Manufacturing activity expanded last month. The ISM index (formerly called Purchasing Managers Index) shows expansion any time it's above 50: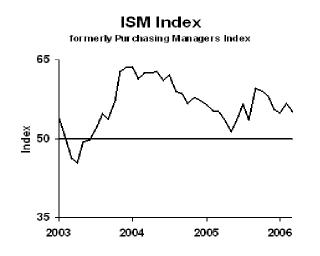 We're not booming as we had been back in 2003, in the sharpest period of recovery, but we're still expanding. It's worth looking at this index in historical perspective:



In context, we're doing OK. But keep in mind that manufacturing activity is not the same as employment. Since the peak of the last expansion, production is up six percent (according to the Fed's industrial production index). But manufacturing employment is down 18 percent. Wow! The difference between the two figures is productivity growth: output per employee is soaring. So we've still got a vibrant manufacturing sector, it just doesn't use many people.
Allow me to reminisce a moment. I visited a factory a few years ago. I saw the front office, with maybe a dozen salespeople working the phone, a few finance and accounting people, a half dozen in the R&D lab. Then the owner showed me the factory floor. I took in the large, two-story space and said, "It's too bad I came on a day when your factory is down."
The owner said, "Down? No, we're running flat out. See that guy up in the window?" He pointed to a glass-walled control room on the second floor which overlooked the factory. A man in the room waved to us. "That guy is running the whole show. Now look on that catwalk in the back. That fellow is reloading the mixers. And you can't see the third guy, he's out on the loading dock, but he takes the finished product out." This factory has employment of about 25 people, of which only three worked on the factory floor.
Business implication: manufacturing is still expanding, fueling the need for capital equipment and software. I expect both of those sectors to be strong in 2006.