The manufacturing sector is about flat, according to the Institute for Supply Management's Report on Business (formerly called the Purchasing Manager's Survey).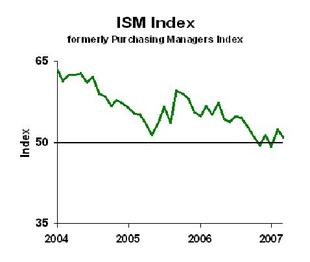 The official line is that any value over 50 indicates expansion. The reality is that this is not a high fidelity indicator. If it's in the neighborhood of 50, I say manufacturing is flat.
Historically, this has been a good leading indicator of manufacturing employment. Further, values over 50 used to be good indicators of increases in manufacturing employment. That relationship has changed over the last 20 years, with manufacturing jobs being weaker than the ISM index would suggest.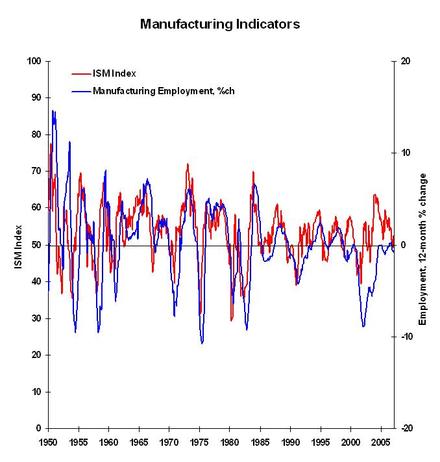 The change in relationship is no doubt explained by productivity. (It can't be caused by off-shoring, or both measures would be weak, not just jobs.) I'm looking for manufacturing jobs to fall through the rest of this year. We need a solidly above-50 ISM report to keep manufacturing jobs, and we're not getting it.
Recession? Don't panic. Manufacturing is not the economy. We can have a moderately weak manufacturing sector without a national recession. That's the story I expect for 2007.
Business Planning Implications: If your company feeds supplies to the manufacturing sector, you'll do OK. If you feed labor services or capital equipment to the manufacturing sector, look for a downturn this year.