Retails sales looked good last month. Remember that these data are adjusted for normal seasonal fluctuation, so we're not looking at a sales increase simply due to the beginning of Christmas; we're seeing a sales increase of over 5 percent compared to the same time of year in 2005.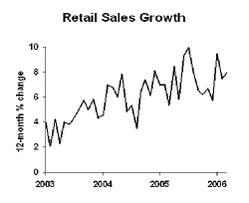 Last month was a bit unusual because what you saw was what you got. The sales gain was not due primarily to gasoline prices rising, nor to auto sales–it was broad-based gains. The only exception was furniture stores, which have seen declining sales recently. The housing slump is no doubt depressing spending on new furniture.
Business Strategy Implications: Aside from furniture, companies selling to consumers should expect continued moderate growth. Forget the breakneck pace that dominated in 2005; expect a continuation of the moderate growth of 2006.
Other Blogs Posting on This Topic: The Big Picture gives a good bit of context for the report.