New housing construction is falling. This morning's data showed a five percent increase, but the trend is pretty clear: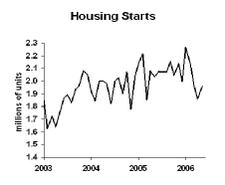 The sharp drops of the previous two months were partially reversed, but the new pace of construction is running about seven percent below last year's average. The news on permits for future construction is even worse.

And at this point, mortgage rates have further to increase, I believe.
Business Strategy Implications: Businesses in the housing construction supply chain should hunker down.